[ad_1]
The Weatherspoon Art Museum at UNC Greensboro is delighted to announce an exhibition of new works by artist Angela Fraleigh, a new installation inspired by the museum's history and collections. Shards of a secret sky will be visible from October 9 to December 11, 2021.
In Fraleigh's vibrant and large-scale paintings, female subjects taken from historic images of art come to life in dreamlike scenes. Throughout the history of art, women have often been painted as objects for the male gaze. In Fraleigh's work, however, they converse, engage and share, existing for themselves and each other rather than for a viewer. Fraleigh explains, "Nothing makes sense regardless of what we give it. In my work I ask repeatedly: can we reframe images from the past to change the way we see ourselves in the present and create a new future? "
While exploring the history of art at large, Fraleigh also delves into particular stories, often drawing inspiration from specific museum collections. For her Weatherspoon exhibit, she looks to the legacy of Claribel and Etta Cone, the formidable sisters whose transformative gift of artwork helped establish the museum's collection.
"At the turn of the 20th century, the Cone sisters were true to tradition in many ways, but also defied expectations. Financially independent thanks to the success of their family's textile business, they traveled in style to Europe where they spent time in artist studios, befriending and supporting two emerging avant-garde artists. : Henri Matisse and Pablo Picasso. From them and others, the Cones have amassed a collection of vibrant and daring artwork, "said in their press release. "Fraleigh's new trio of paintings are visually inspired by their stunning collection, including works the sisters donated to Weatherspoon and others they bequeathed to the Baltimore Museum of Art. By superimposing these modernist references to older historical art images, Fraleigh conjures up a dense painting of realism and abstraction, which celebrates the shining artistic eyes and patronage of the sisters while embracing the depth and complexity of their lives as a marker. of the richness of women's stories throughout history. "
Fraleigh explains in more detail the extent of the research that takes place in all of his paintings, as well as his specific study of the Weatherspoon's Cone collection for his new monumental project with a virtual event on October 21 between 7:00 p.m. and 8:00 p.m.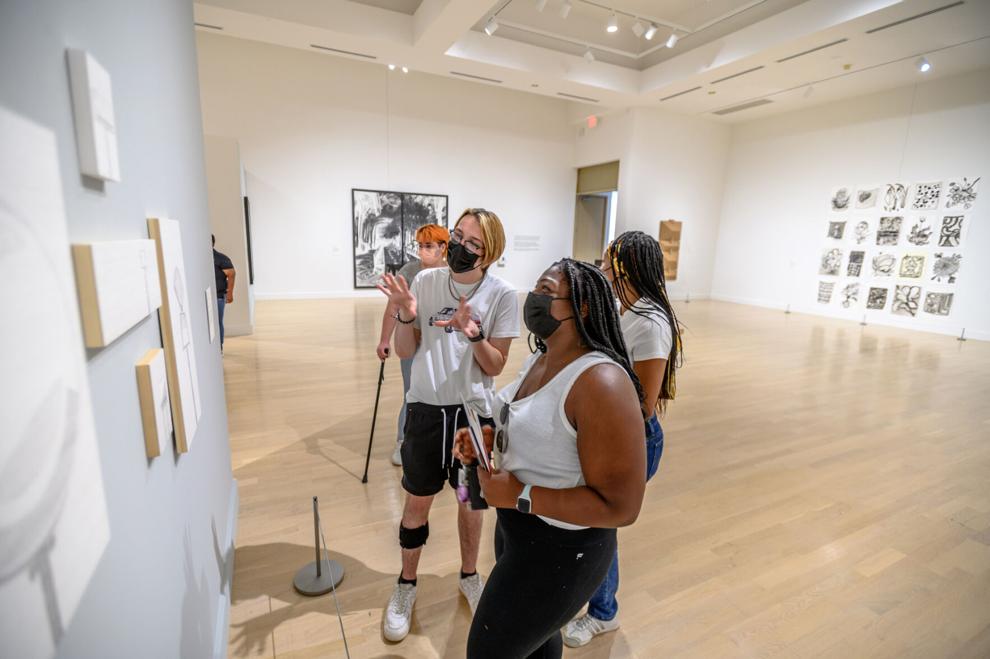 Over the past few months and months to come, the Weatherspoon Art Museum also featured two works of art for display, Art on paper and Seven Masters. This year marks the 46th presentation of Art on paper, "A centuries-old museum tradition, the exhibition showcases the work of artists who demonstrate the breadth of ways in which the humble medium of paper can be deployed for extraordinary purposes," said Dr Emily Stamey, Curator of Exhibitions. The exhibition will last until November 27.
New to Weatherspoon is the Seven Masters: 20th Century Japanese Woodcuts, which was organized by the Minneapolis Institute of Art and is on tour by International Arts and Artists, Washington, DC. context of modern and vibrant life in Japan gave birth to an artistic movement known as the Shin Hanga, or the "new impression". The exhibition will last until December 4.
Continuing the conversation, Nozomi Naoi, Assistant Professor of Art History, Yale-NUS, will host a virtual event on November 16 at 8 p.m. called, The women of Shin Hanga, to further address the radical social and political change in Japan resulting from modernization, urbanization and westernization in the early 20th century. Also Shin Hanga movement's response to the cultural climate by embracing both modernity and traditional Japanese aesthetics. Beauty prints were especially important in highlighting elements of nostalgia and modernity. Naoi examines these beauties in the context of the times and how they connect to visual media in Japan today.
"This exciting new work provides opportunities to honor and critically explore the lives of these incredible patrons, while drawing on their legacy to examine a range of fascinating questions related to the complicated ways in which history is recorded. , relayed and reinvented, "Stamey shared.

The Weatherspoon Art Museum is proud of its efforts to enrich the lives of diverse people and connect multiple communities, both on and off campus, by showcasing, interpreting and collecting modern and contemporary art. By recognizing its primary role in public service, the Weatherspoon fosters an appreciation of the capacity of art to have a positive impact on life.
For more information, check out their social media platforms: WAM Facebook, WAM Twitter, WAM Instagram.
Naima Said is a 22-year-old UNCG theater graduate and host of Heeere's NeeNee Horror Movie podcast.
[ad_2]