[ad_1]
When you think of museums, you might think of the Metropolitan or the Louvre, those great popular tourist attractions known around the world. Important both culturally and historically, museums give us a glimpse of life in another place and time, providing a snapshot of a world far away or threatened with extinction.
Local museums are just as vital as their famous counterparts. They preserve the flavor of the local culture and everyday life of the people who founded towns and villages, offering insight into their rituals and religion, food and art, etc.
It is a work to which Susan Kemmis and Dottie Gray, pillars of the Boundary County Historical Society and Museum, have devoted themselves respectively for 14 and 10 years. "You never know what's going to come through the door," Kemmis said of the artifacts they receive.
"Sometimes an exhibit is created because of an artifact, but you shoot other places to create a scene," she continued. All it takes is a good lead to "find the rest of the story".
In 1999, at a public conference, the late President of the Commonwealth Museums Association, Emmanuel N. Arinze, declared that museums are "the guardians of the cultural soul". Much more than tourist attractions, museums connect us to the past, making it a living and breathing entity.
Gray echoed the sentiment. "We try to make these kinds of connections whenever possible," she said, citing the advancement of technology from their Edison phonograph to an iPod as an example. "Sue will show them the wax cylinders and the needle that goes around to play the music […] and we talk to them about [it]. "
"As they walk around with headphones," Kemmis laughs before taking a more serious tone. "I also think that in a way, [the museum is] by giving them a sense of belonging.
They watch generations of locals come in, adults telling how they came to be when they were children, now bringing their own children.
These kids are a big part of why they do what they do, "so our grandchildren know it, and our great grandchildren," Kemmis said. "We have to pass it on to the next generation. "
This is an idea supported by Arinze in his lecture, asserting that museums "hold the cultural wealth of the nation in confidence for all generations" and that "one of the fundamental objectives of the museum is to educate […] they help our future generations to understand and appreciate their history and culture and are proud of the accomplishments of their ancestors.
This is a principle that can be even more concentrated at the local level.
Kemmis and Gray design special programs for fourth graders and homeschooled students. Activities vary and have been suspended during the pandemic, but they look forward to welcoming students again. It's fun for them and the students, the couple said.
"We […] visit the school in March or April, "said Kemmis," and tell them the story of Edward Bonner, tell them how Bonners Ferry got his name. The last two weeks of the school year, they organize a field trip for fourth-graders, the year students start learning Idaho history.
"One year we did the city walk," Kemmis recalls. "We brought everyone back 100 years ago […] Whatever company that was back then 100 years ago, there would be an actor playing the part. Dressed in period clothes, of course.
City administrator Lisa Ailport greeted the kids at the city office and told them a bit about the city. "We needed someone to play the bank robber role," Kemmis recalls, so Dave Anderson, the then mayor, played the part and "robbed" his own bank, handing out coins. chocolate to children. Zimmerman's meat market site had a "pickle barrel" where all the kids could reach out and grab a pickle, just like in the good old days.
Supporting the museum is more than money. These are donations of artifacts, time, visiting the museum, or buying things from the gift shop – all of which are ways the public can contribute to the museum.
But what will happen to the museum when Kemmis and Gray are ready to retire? This is a question they ask themselves regularly.
The youngest member of the Historical Society is 61, leaving Kemmis and Gray with a blurry vision of the future.
The years they have spent cataloging and caring for artefacts, newspaper clippings and photographs bear witness to their dedication to the community and its history.
"It's a huge responsibility," Gray said. "There is a lot to preserve. It is a labor of love but without a clear successor.
How long will they last?
When asked this question, the two women were silent for a few moments, Kemmis finally answered with "until we find someone to do it".
You can visit the museum Thursday through Saturday, 10 a.m. to 3 p.m., at 7229 Main Street or contact them at [email protected] or 208-267-7720.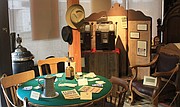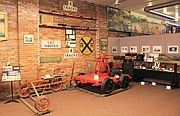 [ad_2]