From its "grey box" appearance and exorbitant price tag to lengthy construction delays, Norway's new national museum has kept critics busy.
Located on Oslo's western waterfront, the £500million museum will be the largest in the Nordic region when it opens on June 11. Yet its director, Karin Hindsbo, felt contrite enough to apologize for the major delays that kept audiences from acclaimed works of art such as Edvard Munch's most famous version of The Scream for decades. years.
"That we have not met public expectations in recent years, I am sorry," she wrote in 2020.
With the final touches being made ahead of its grand opening (an entry fee is yet to be determined, for example), Hindsbo now believes things are falling into place at an opportune time.
This is an epic scale museum. Across 13,000 square meters of exhibition space, 5,000 works will be exhibited at the Rådhusplassen site in Oslo, making it larger than the Rijksmuseum in Amsterdam or the Guggenheim in Bilbao. Hindsbo says people will have choices and be offered advice based on the time and interests they have.
"But I would also say maybe these days, where things tend to go very, very fast, I don't think it's a bad thing to provide a space that you can stay in for many hours," she says. "Maybe it's not so bad to get lost in art these days."
The concept of the museum emerged in the mid-2000s, but the wisdom of the Norwegian parliament's decision in 2013 to combine the collections of four existing museums, including the hugely popular National Gallery, has been hotly debated at every turn.
Hindsbo says the idea is good in that "people will be able to see the whole history of Norwegian cultural heritage and regional cultural heritage in a holistic perspective under one roof", and in conditions that preserve and enhance worth the coins.
The range of the National Museum of Art, Architecture and Design, to give its full name, is wide: from medieval Baldishol tapestry and fashionable Chinese Imperial porcelain, to 18th century Norwegian glass cups and with contemporary design and fine craftsmanship.
The second floor is dominated by visual arts, from Dutch and Flemish landscape paintings to 17th-century still lifes and 19th-century landscape masterpieces by Johan Christian Dahl.
The museum's Munch Room houses some of the Norwegian painter's most famous works, including one of his four versions of The Scream.
The building is crowned by a 2,400 square meter Light Hall, visible for miles around at night thanks to 9,000 energy-efficient adjustable LED lights.
To critics who complain that German architects Kleihues + Schuwerk spent a fortune and eight years building what has been seen by some as a gray box covered in slate, Hindsbo says the point is how the works will be maintained and exhibited indoors.
The building on the former site of a train station was designed to blend in with its neighborhood, says Hindsbo. "It's not a tall building, it's low-rise. It's low-maintenance but high-quality and the issue of durability is important. All materials are chosen within 300 years, so nothing has to be left behind in 20 years.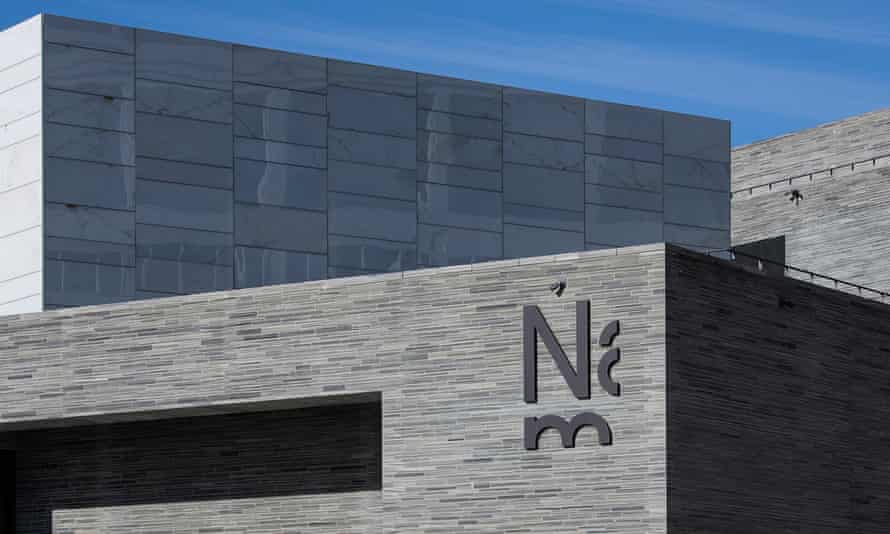 "We should have vines growing on the facade, we have grass on the roof, and you don't see it yet. And the most important thing is the exhibition space itself, and my humble opinion is that it is a unique exhibition space – such incredible conditions to display our collection – and I think the public will see and enjoy it once we open.
Hindsbo is equally indifferent to those who dislike the museum's logo, a capital "N" followed by an "a" and a bisected "m". Some have suggested it was an attempt to get a catchy acronym, in this case Nam, like MoMA (the Museum of Modern Art) in New York.
"Our logo is a logo, not a name," says Hindsbo. "Actually, I think it works very well."
She further apologizes for the delays caused by construction complications and then the Covid pandemic, which has caused some of Norway's finest works of art to be hidden from the public.
"It's no fun for a museum to have closed doors, that's not what we do," she says.
In response, some of the most important works that could be moved have been loaned out over the past year.